More options. More integration. More performance.
Sunny Tripower CORE2
More options.
Ultimate flexibility in system design for large-scale commercial solutions for ground-mounted and rooftop systems.
New
Now available with the integrated arc-fault circuit interrupter (AFCI) function and DC overvoltage protection, type ½
Safety of PV inverters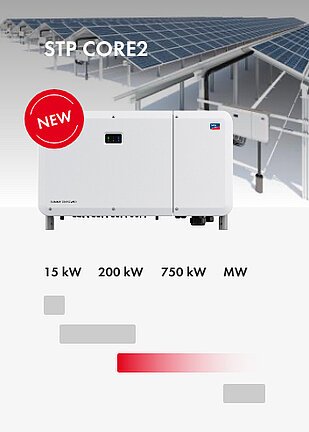 Maximum flexibility up to the MW range.
Best in class: 12 MPP tracker

24 strings with Sunclix connectors

Up to 150% oversizing of PV array

Up to 1,100 VDC

Bifacial modules supported
Core element of the SMA Energy System Business ready to be extended to meet future requirements.
Ready for immediate and future extensions.
Sunny Design: Intuitive planning and design

Storage Business* commercial storage system: Seamless extension, e.g. with storage solutions

Data Manager M: Complete ennexOS integration and easy system commissioning

Sunny Portal: Comprehensive monitoring

SMA Services: Including direct selling with SMA SPOT*, Smart Connected
* Only available for the German market.
Out-of-the-box solution with integrated yield optimization ensures efficient installation and service.
More performance.
No DC Combiner required

Best in class: 110 kW with 400 VAC as standard

Several tried-and-tested handles included

High environmental resistance

SMA ShadeFix and SMA Smart Connected for consistent optimum yields
Intelligent integrated features
SMA Shadefix
ShadeFix is an overall solution from SMA that optimizes the performance of PV systems at string level in every situation. Even in shading. SMA ShadeFix outperforms most conventional hardware solutions for shade management in PV systems.
SMA Smart Connected
Automated inverter monitoring optimizes services and delivers maximum yields.
Sunny Tripower CORE2
Release Notes
Sunny Tripower CORE2 and SMA Data Manager M
Commissioning Notes
For a hassle-free commissioning of systems consisting of one or multiple Sunny Tripower CORE2 inverters and optionally SMA Data Manager M it is absolutely necessary to follow the necessary steps in the shown order:
Commissioning of Sunny Tripower CORE2
Update Firmware of Sunny Tripower CORE2 inverter to version >=1.00.04.R
Update Firmware of SMA Data Manager M to version >=1.09.06.R
Registering Sunny Tripower CORE2 in SMA Data Manager M
Update Firmware of Sunny Tripower CORE2 inverter
Update Firmware of Sunny Tripower CORE2 inverter to version 1.00.02.R
Download latest update file from section "Software" in Download area
Ensure that solar irradiation is available for another 60 minutes. AC supply is not sufficient.
Establishing a connection to the user interface
Generally applicable access address: IP address manually assigned or assigned by the DHCP server (router) (identification via network scanner software or network configuration of the router).
Access address for Apple, Android, Windows and Linux systems:
SMA[serial number].local (e.g. SMAA2102031234.local)
Standard inverter IP address fort he direct connection via Ethernet:
169.254.12.3
Logging In the User Interface
Log in as Installer

Select [Login] in upper right corner of the screen.
Enter password in the field Password.
The standard password for user group Installer is pw1111.
Select [Login].

Mandatory: Configuring the Country Data Set

Select [Device Monitoring] in the menu.
Select [Initialization].
Open drop-down menu Grid Standards (Region) and select the required country code.
Confirm changes with [Save Settings].

Updating the Firmware

Select [Device] in the menu.
Select [Firmware Update] in the sub-menu.
Click [Select a Firmware File] and navigate to the update file fort he inverter.
Follow the instructions in the upcoming dialog.

Keep the browser window open until the update is finished.
Double-check the successful update via the menu [About].
---
Update Firmware of SMA Data Manager M for support of Sunny Tripower CORE2
---
Registering Sunny Tripower CORE2 in SMA Data Manager M
Registering Sunny Tripower CORE2 in SMA Data Manager M
The Sunny Tripower CORE2 is controlled and monitored via Modbus Sunspec by the Data Manager.
One or multiple inverters can be registered as Modbus devices in the commissioning dialog. In step "Modbus registration" please use the profile "Sunspec Modbus" and Unit ID "1". In the following step the country code can be selected for all connected devices.
In case of an already commissioned Sunny Data Manager M the Sunny Tripower CORE2 can also be added easily:
Registering a New Modbus Device and Assigning a Modbus Profile
Requirements:
The Modbus devices must be in operation and connected to the Data Manager.
Procedure:
Log into the user interface of the Data Manager.
Select the menu item Device administration in the menu Configuration.
Select the button.
Select Modbus devices and confirm with [Next].
Fill out the input fields and confirm with [Next].

Select Modbus profile "SunSpec".
Keep Unit ID to "1".
Available Modbus devices in the system are searched for and displayed.

Select the Modbus devices to be added to the system and select [Save].
---
Do you have any questions?
If you have any questions, please contact SMA.
Contact us now
Planning tool Sunny Design
With Sunny Design, you can plan your tailor-made PV system in just a few clicks.
Plan your system now