Innovation at SMA
We bring new energy to life
Every innovation stems from a vision, and ours is to provide people all over the globe with sustainable energy. At SMA, we have pioneers, lateral thinkers and visionaries who turn bold ideas into products and solutions that are fit for the future. SMA technologies enable our customers worldwide to assume a leading role in the production and use of solar power. For decades, we have been setting benchmarks and making the renewable energy supply future-proof – with a passion that is fueled by our belief in our vision.
More than
100 GW
of inverter power installed in over
Around
1,600
patents and utility models worldwide
Roughly
63 m. €
invested in research and development*
Approximately
500,000
registered systems and around
2 m.
registered devices in Sunny Portal
The project objective for the prototypes was ambitious: to develop a cost-effective inverter for worldwide use within nine months. Other than that, we were given complete freedom. That's what made it so exciting, because you have to keep the communication channels open and be accepting of other people's opinions – stay agile in the truest sense of the word. It's only when we learn to get involved or take a step back at the right moment that we ultimately produce something that takes us further – as a business and as a society.

Petra Nawratil, Product manager, Power Conversion Home
The energy transition and digitalization are raising our entrepreneurial potential to a whole new level. We're developing key technologies that make a difference. Ambitious ideas need room and momentum to grow. I'm pleased that we're sustaining this potential. It's the only way we will remain pioneers who make even the impossible possible.

Matthias Victor, Head of Innovation Center & IP
We developed the first augmented reality app for SMA that makes it easier for our customers to maintain and repair their central inverters. This adds genuine value for our customers. Every person in the team worked with passion and was highly motivated. As a result, we were a real trailblazer at the international solar fairs in 2019. As the project manager, I was delighted, of course, and I'm very proud of what the team has achieved.

Verena Drews, Consultant, Technology Development Center
Digitalization is changing our energy landscape. Electricity consumers are becoming prosumers and part of the energy market. For this to happen, the energy supply needs to become a tangible concept for end users as well. It's good if you can deliver the right solutions at the right time here. We want to be that one critical step ahead. That's also what inspired me to study technology and innovation management. I want to keep upgrading my skills and stay on the ball, so that I can give our customers added value for tomorrow, today.

Benjamin Blaurock, Digital components product manager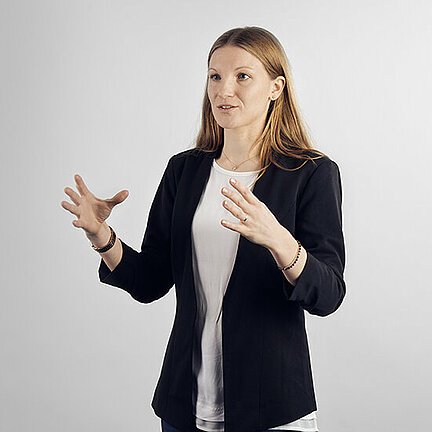 I love driving things forward and addressing issues. This requires me to network with other companies. Getting to see the bigger picture is particularly exciting because it provides new creative stimuli. I have a lot of room to maneuver and I'm not confined by restrictive hierarchical boundaries. This allows me to make the best use of my strengths. This positive working environment is very motivating.

Alina Piecha, Process manager, Future Business & Innovation Management
Innovative development
We design progress.
Improving what we already have and thinking forward to tomorrow, today is the key to our success. That's why research and development aren't just key figures, but the foundation stone of our competitiveness. In close partnership with our customers and development partners and within research networks, we have more than 3,000 employees worldwide working to develop solutions and devices that are impressive from a technological and an economic perspective. A track record of over 1,600 patents is the driver and benchmark of our innovative prowess. That's the yardstick we measure ourselves by.
Pioneering spirit
We are open-minded, but in touch with reality.
We are passionate about renewable energy. We have been shaping the global energy transition for 40 years. Our inverters set technological benchmarks and our services set standards for the photovoltaics industry and the energy industry as a whole. We always have our finger on the pulse and progress drives us forward. We harness digital disruption as an opportunity for new smart technologies and applications for an energy supply that is 100% based on renewables.
Innovation culture
We draw on diversity and team spirit.
Our capacity for innovation is the key to our success. Particularly in the digital age, our employees are at the heart of it all. It's the diversity of our teams that makes the profitable difference. We encourage interaction, team spirit and creativity through an inspirational and state-of-the-art working environment that transcends restrictive office walls and national borders. This is a playground in which new ideas, ways of thinking and perspectives on the energy supply of the future are developed each day anew.
Innovative business models
We are drivers of the energy transition.
The energy transition is fast-paced and dynamic, just like us. We actively help to shape technological, social and economic trends for an energy supply based on renewable energy. Equipped with our digital, data-based business models and in partnership with our subsidiaries elexon and coneva, we respond to current market developments and customer requirements. This enables us to identify new trends quickly and unlock profitable potential.
New work
We love innovation.
Trying out new methods and adopting a playful rather than a cookie-cutter approach are both actively encouraged behaviors at SMA. Where necessary, we break up old structures and flexibly adapt to changing structures. We actively involve our employees in what goes on at the company with methods such as scrum, design thinking and innovation kickboxing. Fun and passion drive our creativity and motivation as individuals. They aren't just means to an end, but the basis for our success.
Innovative projects worldwide
Non-Financial Report
Non-Financial Report 2019 (1 MB)
Non-Financial Report 2018 (454 KB)
Non-Financial Report 2017 (2 MB)
Project Requests
Let us shape the energy transition together. We are happy about concrete project requests or innovative ideas from you:
Contact us now
Sustainability at SMA
Sustainable out of conviction: Shaping a better future.
Find out more
SMA Energy Data Services
Improved integration of solar energy in utility grids and markets with SMA Energy Data Services.
Find out more